First Commonwealth Bank announces new community office to be built in Wexford/Pine Township
Indiana, PA (March 4) – First Commonwealth Bank has announced a new community office will be built in the Wexford/Pine Township area of northern Allegheny County. The new office at 12449 Perry Highway, Wexford, PA, 15090 will be located just south of the Walnut Grill restaurant, next to the Allegheny Health Network complex along the Route 19 corridor. 
The building will be approximately 2400 square feet and will house both personal and business banking specialists. It will be modeled after First Commonwealth Bank's new Natrona Heights office that opened in September 2019, with some additional upgrades. Groundbreaking is set for later this spring with a grand opening in autumn of this year.
"We are very excited about the opportunity to build a new, modernly designed branch office with a convenient drive-up to welcome customers in this important community," announced Adam Dick, Regional Leader at First Commonwealth. "With the tremendous commercial development this area is experiencing, our new office creates the opportunity for us to partner with local businesses and make a positive impact on their growth. This is very important to us as we work toward becoming the best bank for businesses."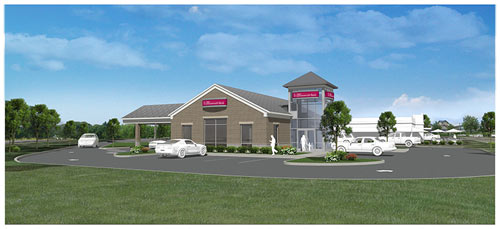 About First Commonwealth Financial Corporation
First Commonwealth Financial Corporation (NYSE: FCF), headquartered in Indiana, Pennsylvania, is a financial services company with 119 community banking offices in western and central Pennsylvania and throughout Ohio, as well as business banking centers in Pittsburgh, Pennsylvania, and Canton, Cincinnati, Cleveland and Columbus, Ohio. The company also operates mortgage offices in Wexford, Pennsylvania, as well as Hudson and Lewis Center, Ohio. First Commonwealth provides a full range of commercial banking, consumer banking, mortgage, wealth management and insurance products and services through its subsidiaries First Commonwealth Bank and First Commonwealth Insurance Agency. For more information about First Commonwealth or to open an account today, please visit www.fcbanking.com.
Media Contact:
Jonathan Longwill
Vice President / Communications and Media Relations
724-463-6806
JLongwill@fcbanking.com