Online Banking Services
If you prefer to use a laptop to manage your finances, our digital banking gives you convenience, accessibility and security at your fingertips. Plus, when you use our mobile app, you'll enjoy a seamless banking experience on any device1.
With First Commonwealth Bank, there's no need to drive out to a physical bank to inquire about your account. While we have multiple branch locations if you'd like to speak with a professional, you can always utilize our online banking services to stay up to date with the latest information. Manage your personal checking, savings or money market accounts from any remote location.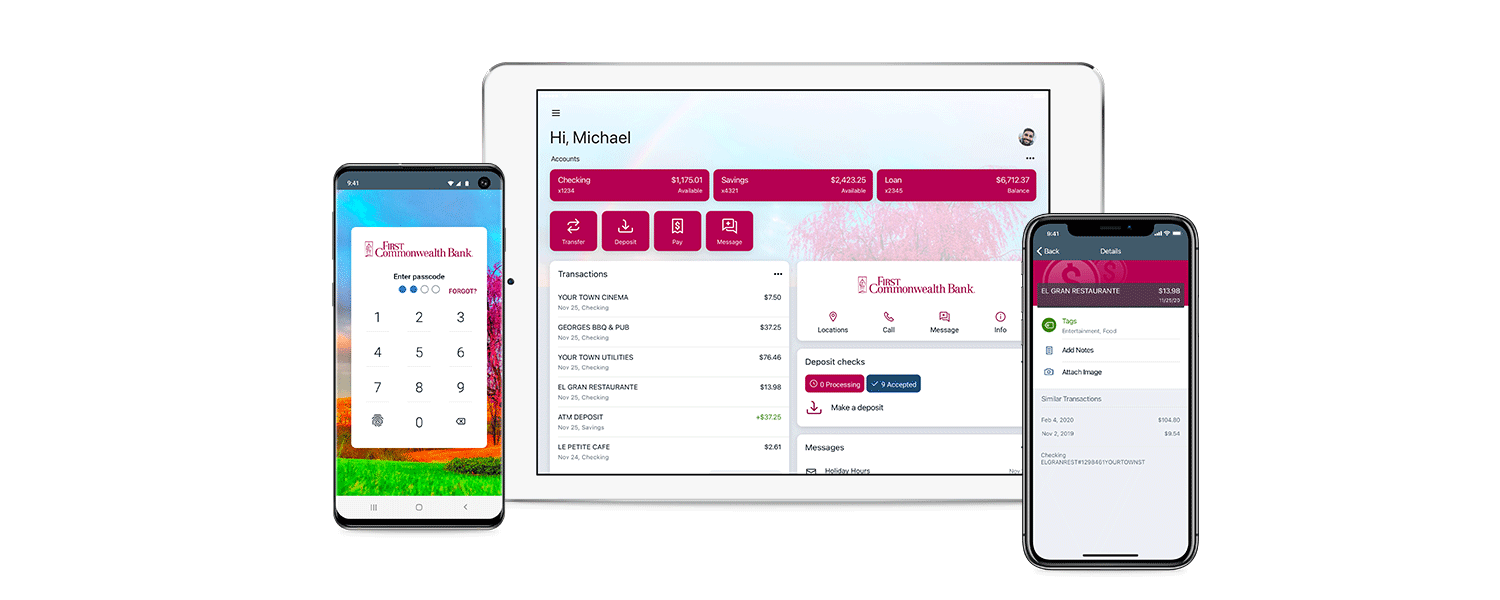 Manage Your Money How You See Fit
We believe you should be able to complete money transfers, deposit checks and pay your bills seamlessly. Our online banking platform enables you to customize the Dashboard area so the information that's most important to you is what you'll see first. Scroll to the bottom of the Dashboard tab and select, "Organize Dashboard" to learn more about your options.
Choose the order that your accounts display, and pick the areas that you'll use most often, like Transfers and Deposits.
Use Our Banking App With Any Mobile Device
The First Commonwealth Bank mobile app is compatible with Android and Apple devices. Just use your phone's fingerprint or face-recognition capabilities to access your account securely. The camera on your device makes mobile banking straightforward so you can complete a variety of tasks from home, such as processing mobile check deposits.
Impressive Features For Your Convenience
Review popular functions of our online banking services below.
Customize Your Online Banking Experience
Customize the Dashboard area so that what's most important to you is shown first. Just scroll to the bottom of the Dashboard tab and select "Organize Dashboard." You can choose the order that your accounts display, and pick the areas that you'll most often use, like Transfers and Deposits.
Make and Schedule Payments
Use the Payments tab to pay bills without ever needing stamps. You can add payees, schedule payments in advance and view a calendar to see everything you have scheduled. You can cancel bills at any time or edit the recipient's information, like address or account number.
Set Up One-Time And Recurring Transfers
One of the best ways to stay organized is to make your payments automatic. We've made it easy for you to set up one-time and recurring transfers online. Set the exact date you'd like to send a payment, and our reliable banking platform takes care of the rest. Transfers can be made between First Commonwealth Bank accounts, and you can also add external accounts as well. Like payments, you can view a calendar of your upcoming transfers and you can edit or change them at any time.
Money Manager Mobile Banking Resource
Customers love using our very own Money Manager tool through the mobile banking app. The tool makes it possible to review your spending habits, map out goals for the future and abide by a monthly budget. Get started by looking for Money Manager under our app's main menu. First Commonwealth Bank is here with the online banking resources you need to spend and save responsibly.
With Money Manager, you are just a click away from knowing your full financial picture.
Manage Your Credit Score 24/7
First Commonwealth Bank online and mobile banking customers can automatically see their credit score within the Dashboard in online and mobile banking. With Credit Score Manager, you can stay on top of your credit with alerts if your score changes, see how your credit score might change with certain actions like getting a loan or opening a new credit card, and more.
Send Payments With Zelle®
Send and receive money in moments when you use Zelle®2. With Zelle, you can transfer money to anyone with a bank account in the United States almost instantly2. You only need a mobile phone number or an email address to get started. Zelle is available within your First Commonwealth Bank Online Banking and app. Follow the prompts on your screen so that you can leave cash at home.
Make A Digital Wallet
We'll help you keep personal credit cards and debit cards in one place. Set up your own digital wallet since our issued cards pair with Apple Pay™, Samsung Pay™ and Google Pay™. All you need is your smartphone to make purchases at your favorite stores. Enjoy contactless transactions to maximize security.
A Note About Security
You will be prompted to select a four-digit passcode, and depending on your device, can set up Touch ID or Face ID. As an extra security feature, you'll be asked where you'd like to receive a verification code during the enrollment process. You can opt for a text message or phone call via the Authy app. This process is called two-factor authentication and it will happen anytime you're using a new device to access your account or if you reset your device cookies.
Visit our Fraud Center for ongoing information to keep your private information, well, private.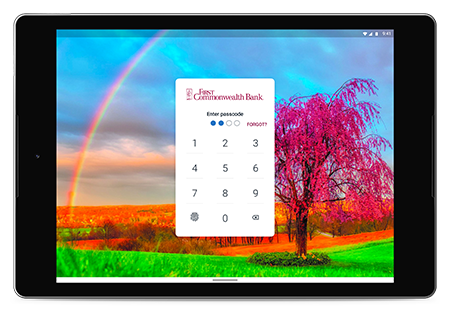 Start a Conversation
Talk with us directly on any device you want. Just select "Support" and then "Start a Conversation."
eStatements
Review or sign up for eStatements and get an email when they're ready. Just select the Documents tab to get started.
Zelle®
Send money in the moment with Zelle on any device from your personal bank accounts. Get started.
1 We don't charge for these services but standard message, data, and internet service provider rates may apply so check with your carriers.
2 Must have a bank account in the U.S. to use Zelle.
Zelle and Zelle-related marks are wholly owned by Early Warning Services, LLC and are used herein under license.