Total access banking that keeps you connected to your finances from anywhere you are, anytime you want, on any device you have.
It's time to enjoy your new online and mobile banking experience, and we couldn't be more excited for you. We've outlined the essentials for getting started below, so you can manage your accounts with confidence. 
Log In with a Browser
For our go-getters, log in to the new experience using your existing Online Banking ID as your Username followed by your password.
Get the New App
Follow these links to download your new app in Google Play or the App Store. Then delete your old app.
Read Our FAQs
Need to research something before you use it? We get it. Check out our comprehensive FAQs made just for you by our teammates.
Simple Steps for Logging in for the First Time
Online: Visit my.fcbanking.com using Chrome, Firefox, Edge or Safari. 
App: Get the updated "First Commonwealth Banking" app in the App Store or Google Play.
Now you're ready to log in using your existing Online Banking ID as your username and entering your password. As an extra security feature, you'll be asked where you'd like to receive a verification code. You can choose via text text, phone call or verification via the Authy app. This process is called 2 Factor Authentication and will happen anytime you're using a new device or if you reset your device cookies. (Does that make you hungry, too?)
Note: The first time you use the new experience, it can take 1-2 logins for your accounts and transactions to sync up, so if something is missing, just log out and back in. Once logged back in, give it a few seconds to load and then you should be good to go.
Make Your Experience What You Want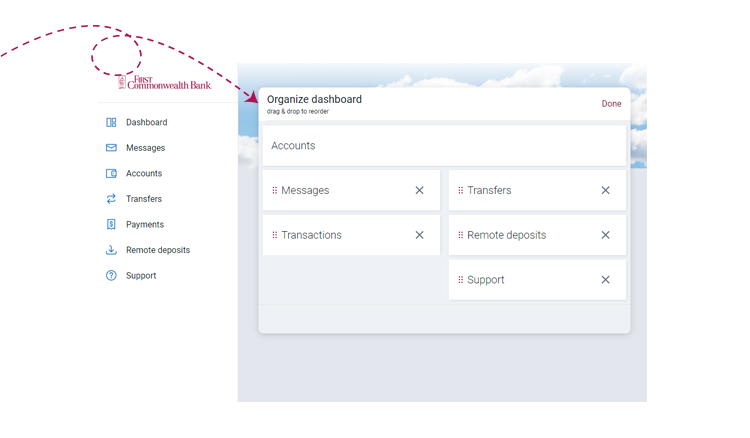 Customize the Dashboard area so that what's most important to you is shown first. Just scroll to the bottom of the Dashboard tab and select "Organize Dashboard." You can choose the order that your accounts display, and pick the areas that you'll most often use, like Transfers and Deposits.
Re-Establish Your Alerts and External Transfers
To re-establish or set up new alerts, select any of your accounts and choose "Alert Preferences." You'll see all of the options and can choose how to get the alert.
Re-establishing transfers to external accounts can be done by selecting "Transfers." From there, you can set up one-time or recurring transfers to external accounts. 
Make Your Next Login Even Easier
You can set up a four digit passcode, Touch ID or depending on your device even Face ID to make your next login even easier. Once you're logged in to the app, click on the little arrow in the left hand corner by your name, then "Settings" and "Security."
A Few More Tips for Your New Experience
For businesses, select the Cash Management tab to be taken to a very familiar experience where you can access payments, payroll and more.
eStatements can be found by tapping on any account and then selecting "Documents."
You can see your available balance, which includes your pending transactions, in the berry Account icon. A running balance is available in your Transactions card for all posted transactions.
To log out, simply tap the arrow next to your name in the lower left hand corner and then select "Sign Out."
Check out the tips below and explore more features of the new digital banking experience for your personal or business accounts.
Start a Conversation
Talk with us directly on any device you want. Just select "Support" and then "Start a Conversation."
Zelle®
Send money in the moment with Zelle on any device from your personal bank accounts. Get started.
Mobile Deposit
Sign, snap and deposit checks via your app without ever leaving your couch. Make it happen.
Pay Bills
Use the Payments tab to pay bills without ever needing stamps, both one time and recurring. Learn more.
eStatements
Review or sign up for eStatements and get an email when they're ready. Just select the Documents tab to get started.
FAQs
Have questions about the new experience? We for sure have answers. Find them all with our FAQs.
Quick Online Banking Video Resources
We're Always Available for You
If you need a little help navigating your new online and mobile banking, we're here for you. Start a conversation with us inside online banking or your app, or call us at 800.711.BANK (2265). Our team is available weekdays between 7:00 a.m. and 9:00 p.m. and on the weekends between 8:00 a.m. and 5:00 p.m.
If you need help outside of those hours, just shoot us an email at engage@fcbanking.com and we'll get back to you as soon as possible.